Edward Lister Bramwell, born 23 December 1880, at 28 Garden Street in Gateshead England, was the fifth of 14 children
born to William Lister Bramwell and Ann Brown between 1874 and 1901.



Florence May Upton (no photo) was born in 1887, in Hackney in London. How they came to meet, we do not know yet, but we'll keep looking.
Edward and Florence were married on the 28th August 1904 at St Johns Church in Newcastle-upon-Tyne, England.
WORLD WAR 1
Edward served with the Royal Army Service Corp during World War 1, seeing action in France from May 1916 until October 1916 and again from January 1917 to April 1917
where he suffered a severe gunshot wound to the left thigh. He was serving with the Royal Army Medical Corp when he was demobilized and transferred to Army Reserve in August 1919.
The image below is the medal awards roll. Please click the image to enlarge it.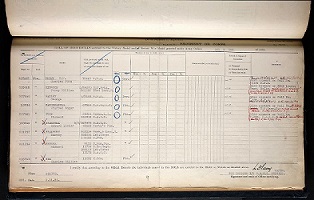 Over a period of 17 years, Edward and Florence had 10 children. Of the 10 children born, 7 died either at birth or within a year. Only 3 of the children survived into adulthood, Florence, Joshua and Edward.


The following table contains Birth, Marriage and Death dates we currently have and if the date is underlined, will link to a certificate or a photo for that event.


In order of birth the children were;
Florence passed away at the very young age of 49 on the 22 September 1936, no doubt in part because of the loss of so many children at such a young age.
At the time of the 1939 Register, taken before the start of World War II, Edward was residing at Richmond Avenue Islington North London with his daughter Florence and her family, husband Frank and their daughter Joan.
Edward passed away on the 18th August 1963 at the City Hospital in St Albans Hertfordshire UK at the age of 85.
---