This page is dedicated to my Great Grandparents William Lister Bramwell and Ann Brown.
Click the photo's below to show a larger image

William was the son of William Bramwell and Isabella Lister.
He was born on Thursday 7th December 1854 at Oakwellgate in Gateshead Durham while his Baptism took place 17 days later on Sunday 24th December 1854.

Ann Brown was the daughter of Robert Brown, a blacksmith, and Isabella Brown, formerly Hornsby. Ann was born on Friday 19th December 1856 at Oakwellgate Gateshead.

On the 8th December 1873 they were married at The Register Office in Gateshead.

Although it states William's age as 18 on his marriage certificate, he was in fact 19, having celebrated his birthday the day before he got married.
Also it shows Ann as being 17 when in fact she was 11 days short of her 17th birthday.


During the 57 years they were together they had 14 children including my Grandfather, also called William Lister Bramwell.

Ann holds a proud record of having seven of her sons in the armed forces. An article appeared in the North Star newspaper dated February 21, 1917. Click here to see the article.

The following table contains Birth, Marriage and Death dates we have and the date, if underlined,will link to the certificate for that event.

If you click on the camera icon it will show a photograph of that person.


In order of birth the children were;

All the children were registered with Lister as a middle name except Louisa, who sadly died in 1898 at the age of 2.

William and Ann died just under seven months apart, Ann on the 15th May 1931 and William on the 6th December 1931.

Their memorial also bears an inscription to their son Joshua Lister Bramwell, who died in action during the First World War, and is commemorated on the Tyne Cot War Memorial in Belgium.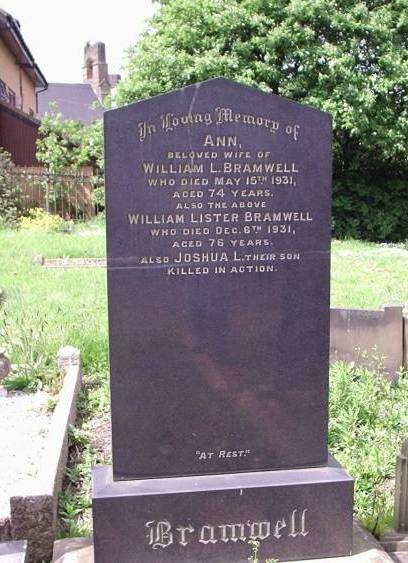 William and Ann's Memorial in Sunderland Road Cemetery Gateshead.












bramwellfamilyhistory.co.uk 2004-2019
Last Updated January 2019

__________________________________________________________________________